Biography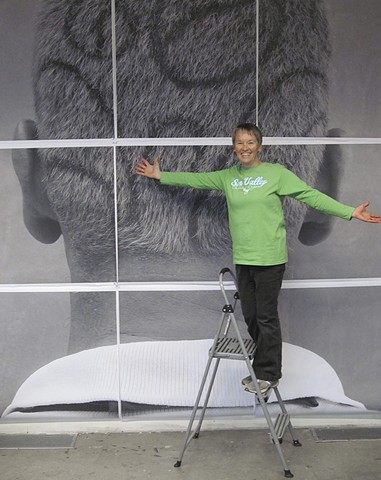 How to begin? What's pertinent? Born in Belle Plaine, Iowa, in 1948. What a poetic name, "beautiful plain." And it was, but in a way too subtle for me to appreciate when I was young. I lived in Iowa for 53 years, spending most of my growing-up years in a great little town with a less melodic name, Grundy Center. I was born Imogene Kay Robshaw, but the aptness of my first name eluded me – I just saw it as a curse from my parents. Long after I became a photographer I learned that Imogene means "image" or "likeness," and by then I was happily nicknamed Robbie.
I attended the University of Northern Iowa, the first of my family to attend college. What a gift, what a life-changing experience. Brilliant and charismatic women and men like Loree Rackstraw, George Day, and James Hearst opened a world of intellect and beauty for me.
I tried to return the gift by teaching junior high and high school English for the next 7 years (I also got married to Jim Steinbach during that time and moved to Davenport, Iowa). There were moments of joy and success in my teaching - getting my indifferent student Roger to brilliantly play Romeo comes to mind - but so many moments of frustration also. I quit teaching grammar and literature when our daughter Molly was born in 1978. How lovely to spend days playing "pattycake," reading to her, watching her take her first wobbly steps towards a wary black Persian cat…..
When I found myself longing for adult conversation, I took a part-time job in a camera store. My interest in photography had been sparked a few years before on trips to Europe. At the camera store I furthered my technical knowledge and then took a class in photography at the local art museum. That was it – I was hooked.
When Molly was in kindergarten, I began attending the University of Iowa, working toward a M.F.A. in photography and video. It was an exciting time. But I was also exhausting myself, trying to be mother and wife, student and artist, and once again teacher. In 1985 I began teaching at Augustana College in Rock Island, Illinois, where I taught for the next 14 years. I loved all my roles, but playing Superwoman was too much. I took influential studio and art history classes in which I began reading feminist theory. I began to see my struggles in a broader context, and that helped me understand, cope, share, and make changes. I eventually taught women's studies courses at Augustana in addition to my art classes.
In 1999, I resigned from my job at Augustana College due to air quality problems in a new art building. I continued creating art, made a pilgrimage to Italy that resulted in some of the photos on this site, and made plans to move to New Mexico. That longtime dream was realized in 2001. My husband and I built a home in this spectacular mountainous place, and I taught for several years at The University of New Mexico - Taos. Now, for the first time in my life, I am working full-time as an artist. I've added book arts and printmaking to my art forms. I've had one-woman shows at the Harwood Museum of Art and Millicent Rogers Museum, have exhibited my work at Wilder Nightingale Fine Art and Hulse/Warman Gallery in Taos, have been granted three Emily Harvey Foundation residencies in Venice, Italy, and have published a book on creative women in Taos. This new life is good.
Robbie Steinbach, Taos 2019